Sue's Salmon & Soba Brunch
An all time favorite at our house is an inspiration received by my wife, Sue Swanback. Sue was then absorbed in a full tilt, accelerated program at Southwest Acupuncture College, so weekends represented a time to take a deep breath and remember what life was like before school. This recipe is actually pretty quick and easy, but she most often cooks it when there is adequate time to relax and savor its amazing flavors — like Sunday morning.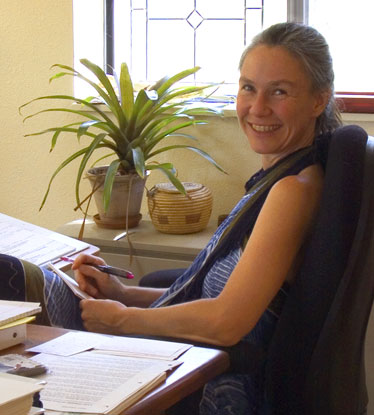 Sue in her study lair.
Here are the ingredients:
2 Tablespoons Ghee
1 Tablespoon Ume Vinegar
1 Chopped Onion, purple or yellow
2 Medium Zucchini, sliced into quarter rounds
1 Red Bell Pepper, chopped
4 Large Bok Choy leaves
2 Cloves Garlic, minced
1 ½ Teaspoon ground Sage
1 Teaspoon ground Cumin
1 Tablespoon Dulse Flakes
Sea Salt & Pepper to taste
8 ounces Sliced Smoked Salmon, cut into bite sized squares
½ Package of Mugwort Soba Noodles
Sprinkling of Capers
Preparation Is Everything!


---
Warm large plates in an oven set at 120°.
Prepare the vegetables first. Trim bok choy by separating the leafy greens from the white stem. A fell swoop with a caddy knife on each edge of the stem will do. Chop the stem and the greens separately. Chop all other vegetables also, as this recipe will cook quickly.
Bring a large amount of pure water to boil for the soba noodles. Add some salt to the water. Add half package of soba to the water when it's boiling. Cook 5-7 minutes, to taste. Drain the noodles.
Meanwhile, in a large saucepan or wok (a large, heavy copper sauté pan works well), melt ghee over medium heat. Add onions, bok choy stems, zucchini, and bell peppers. Sprinkle with ume vinegar and gently simmer. This stage requires loving attention to make sure everyone in the pan is happy. Add garlic, sage, cumin, dulse flakes, and salt and pepper. Continue to simmer while stirring. When almost done, reduce the heat to low, add the bok choy leaves, sprinkle on some capers, and stir. Turn off the heat and add the salmon pieces, mixing until warm.
Divide soba noodles onto warm plates, pour the veggies on top. We're often feeling a little piggy on a late Sunday morning, so this makes two generous portions. Best when made with love. All measures are approximate, as the cook doesn't really measure things.
This is a stand alone meal. Nothing else is needed, other than steaming tea — Jasmine Jazz is a good match. And the recipe doubles well if you have guests.
2202 Menaul NE
Albuquerque, NM 87107
505.266.5681
© 1999-2022 All rights reserved, Dr. Larry Horton